RADIATOR SERVICES
Auto Radiators Southland is Invercargill's preferred radiator service
Auto Radiators Southland has provided high-quality radiator services for more than 70 years. Frank Brookland is the local Invercargill and Southland radiator specialist. His radiator shop calls upon more than 50 combined years of experience crafting heavy-duty industrial radiators, intercoolers, and marine heat exchangers to repair, service and replace any cooling system. We are a complete radiator repair shop with the ability to repair every part of radiators, air coolers, heat exchangers… the list goes on. Our thousands of satisfied clients stand testament to our great prices and peerless radiator service.
A complete radiator shop for Invercargill's cooling systems
At Auto Radiators Southland, we guarantee incredible workmanship. As members of ADRAD's national radiator network, our parts and craftsmanship carries a national guarantee. We can handle any job – our coolant service and air conditioner services are only the beginning of what our experts can offer. What our large inventory lacks, we can fabricate – for example: metal radiators for custom and vintage cars, earth movers, motorbikes, forklifts, marine operations and other diesel engine equipment.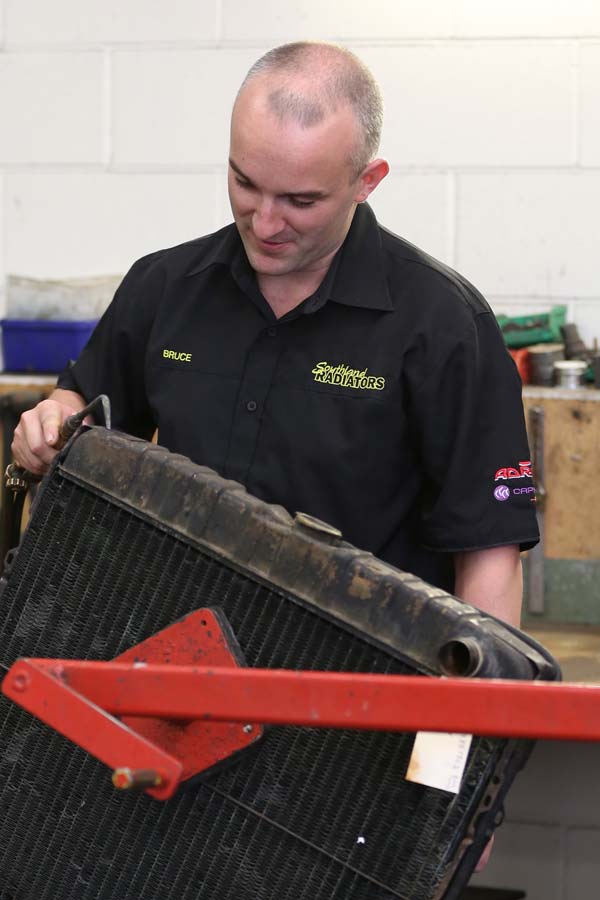 GUARANTEED QUALITY WORKMANSHIP & A PROMPT RADIATOR SERVICE
Your radiator plays a crucial role in the performance and longevity of your engine. With a radiator service from Auto Radiators Southland, you can be confident that Frank, a highly skilled and knowledgeable technician, will analyse your radiator and provide cost-effective, reliable solutions to suit. Whether it's a leaking radiator or an overheating engine, contact your local car radiator repair service agent. For many services and repairs, we have same or next-day turnaround times on a coolant service, radiator cleaning service and many other radiator servicing tasks.
AUTO RADIATORS SOUTHLAND HAS MANY SATISFIED CUSTOMERS THROUGHOUT THE SOUTHLAND REGION, INCLUDING:
CONTACT YOUR


LOCAL RADIATOR REPAIR EXPERT NOW.